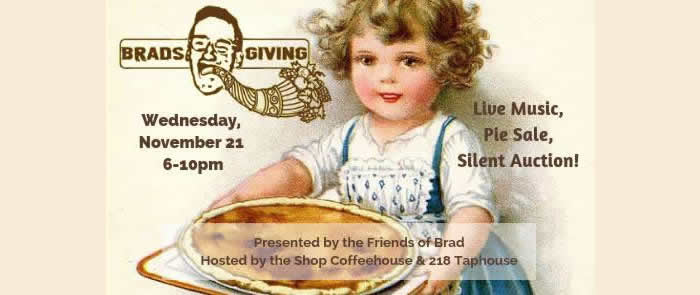 The Friends of Brad Memorial Foundation (FOBMF) is organizing a festive pre-Thanksgiving celebration from 6-10pm on Wednesday, November 21 at the Shop Coffeehouse and 218 Taphouse in Virginia.
Bradsgiving will include live music by four area bands, delectable homemade pie and a small silent auction. The festivities will benefit the FOBMF, a volunteer-run nonprofit with programs to celebrate and cultivate young musicians in Northeastern Minnesota.
"Bradsgiving is the perfect way to jumpstart your holiday weekend. We've got a full slate of extraordinary performers and we'll be serving up some of the best pie you've ever tasted," promises Troy Rogers, FOBMF president. "We'll also have some fun silent auction prizes. If you're a craft beer fan, you should definitely come to check that out."
The FOBMF memorializes percussionist and Virginia native Brad Rozman, who passed away unexpectedly in 2009. In 2010, the foundation started the BradFest summer music festival in Two Harbors and has continued with fall and winter events, both in Virginia and Duluth.
Over the years, FOBMF has donated more than $14,000 in scholarships and programming for aspiring musicians. This marks the eighth consecutive year the foundation awarded scholarships to students in rural Northeastern Minnesota who plan to study music in college.
In 2018, Dominick Olivanti from Virginia received a scholarship. He is now attending Bemidji State University, pursuing a degree in vocal music education with minors in opera and piano. Learn more about FOBMF's talented scholarship recipients.
Olivia Skaja from Deer River initially received a scholarship in 2017 to attend St. Olaf. The foundation recently decided to grant her an additional scholarship to help fund a trip to Norway in June 2019 with the St. Olaf Orchestra.
The FOBMF also supports causes such as the Duluth Music Resource Center, which teaches kids to play instruments, write songs and record music. In November, the Friends of Brad again made a donation to the Music Resource Center (MRC) in Duluth, which will be designated towards the production of a compilation CD by MRC students.
Bradsgiving Details:
The Shop Coffeehouse and 218 Taphouse – 235 Chestnut St. in Virginia
Wednesday, November 21 from 6–10pm
Silent auction: 6-8:30 pm at the Shop Coffeehouse
Music: 6-10 pm at the 218 Taphouse (adjoins the shop)
Featuring music by: Ingeborg von Agassiz; Rich Mattson & Germaine Gemberling; Sara Alexander & Friends; and Horse Fzce.