2018 Scholarship Recipient
A Virginia High School graduate, Dominick Olivanti started his singing career in second grade and has grown into a devoted vocalist. Dominick was active in VHS choir, band, and orchestra; performed lead roles in school musicals; and was a strong competitor in state music contests. For three years, he was selected to participate in the UMD Honor Choir Festival. Dominick is headed to Bemidji State University to pursue a degree in Vocal Music Education with a Minor in Opera and Piano. Ultimately, he dreams of developing one of the best high school choir programs in Minnesota. Watch Dominick show off his vocal chops in this rendition of the Aaron Copland's "Long Time Ago."
We also granted a scholarship to Olivia Skaja, who is attending St. Olaf college for violin performance. Olivia received a FOBMF scholarship in 2017. This year, she had a specific need related to her musical pursuits and we decided to grant her additional funds. She will use the scholarship to help fund a trip to Norway in June with the St. Olaf Orchestra.
2017 Scholarship Recipients
Briona Currie is a graduate of Eveleth-Gilbert High School. A passionate performer, she began singing and dancing at age 4 and hasn't looked back.  Briona enjoys performing with her high school choir, church groups and at community events. She also serves as a music teacher at a Bible school and plays trumpet in the EGHS Band. Briona plans to attend the American Musical and Dramatic Academy in New York City and dreams of performing on Broadway someday. In this video, watch her love for music shine while singing "Can't Help Loving that Man of Mine" by Kern and Hammerstein.
Olivia Skaja was homeschooled in Deer River. She has been a dedicated violin and fiddle player for most of her life. She developed her craft by participating in numerous orchestras, events and music schools, including the Itasca Symphony Orchestra, the Northern Lights Music Festival and the Meadowmount School of Music. Olivia has earned many accolades for her music performances and hard work: she was the 2016 Minnesota State Old Time Fiddle Champion and took first place in the 2017 Duluth-Superior Symphony Orchestra Young Artist Competition. She will be attending St. Olaf college to pursue violin performance. Experience Olivia's moving rendition of Adagio from Bach's Sonata No. 1 in G Minor in this video.
2016 Scholarship Recipients
Ali Juntunen is a graduate of Deer River High School and long-time lover of music. She is a dedicated musician, playing piano for over a decade, singing a range of parts in the concert choir, and sitting first chair of the flute section in the band. While Ali will be pursuing a degree in graphic design at Concordia College, she tells us she feels deeply inspired by music and plans to be a musician throughout her life, including playing flute and piccolo in the college band. In addition, she shares that she would love to tour with a band around the world, and–as a science fiction fan–possibly playing music that experiments with futuristic sounds. In this video, Alison shares her contagious love for music while playing selections from Telemann and Handel on flute.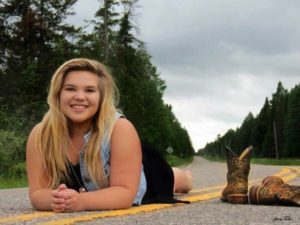 Kelly Heinonen graduated from Virginia High School, where she was a diligent and enthusiastic member of the choral department for six years. The VHS Choral Director shared that he is impressed not only with her natural vocal talent, but also with her strong work ethic and commitment to music. In addition to her participation in many choral groups where she wowed the audience with her solo parts, Kelly also enjoys musical theater and has been part of several high school and community productions. She plans to attend Concordia College, majoring in Music Education. After college, Kelly plans to teach high school choir, with the aim of inspiring her students to 'follow their dreams and keep music a part of their everyday lives'. Watch this video to see Kelly's vocal chops on "American Lullaby" by Gladys Rich.
A graduate of Two Harbors High School, Kari Haaversen was an industrious member of the musical community there, serving in every musical group that the school offers, including band, vocal jazz, choir, and women's ensemble. She also attended the UMD Honor Band and Honor Choir and was an alternate for the 2015 Minnesota All State Choir. Kari will attend Minnesota State University Moorhead, where she will major in film production and hopes to join the concert choir there and eventually to incorporate her love of music into a career in film. Watch Kari show off her diverse musical skills in this clip, which includes "Sebben Crudele" by Antonio Caldara.
2015 Scholarship Recipients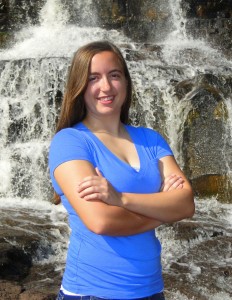 A graduate of Grand Rapids High School, Samantha Mutchler has been involved with local musical productions and ensembles since 6th grade, including Mississippi Melodie Showboat, Itasca Symphony Orchestra, and Grand Rapids Players. In addition, she loves musical theater and was a member of every band her high school had to offer, which contributed to her receiving the John Phillip Sousa Band Award. Sammy plans to attend the University of Wisconsin Eau Claire and will major in Music Education. She'll study under renowned tuba/euphonium professor Dr. Jerry Young. At UW-Eau Claire, Sammy plans on taking part in several ensembles, including the Blugold Marching Band, a group that she highly recommends you check out in person if you get the chance! Follow this link to watch Samantha play some tuba multiphonics on 'Fnugg Blue' by Oystein Baadsvik.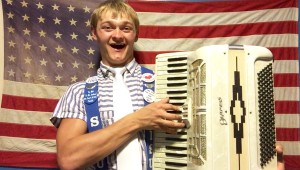 Steven Solkela is a graduate of Mesabi East High School and a resident of Palo Minnesota. He is a versatile musician whose repertoire includes the accordion, trombone, trumpet, piano, ukulele, banjo, guitar, saxophone, and also a bit of harp. Steven enjoys singing to the cows on the farm, strolling snowy Minnesota beaches, and traveling around speaking Finnish, as well as playing in lots of ethnic festivals with his one man band he calls the "Steve-O polka show" or the "Palo Polkaparty." He has dreams of one day singing in Finland and in the Olympics. Notorious for playing accordion on rooftops, he also dreams of playing his favorite instrument on top of the Empire state building. Steven plans to attend Rowan University in New Jersey and will study Opera singing. Watch this entertaining video of Steven showing off his many talents, including one of his original compositions.
2014 Scholarship Recipients
Ricky "Chip" Sundstrom graduated from Two Harbors High School. A diverse musician, Ricky writes and records music and plays guitar, bass, drums and sax. Ricky is the founder of the band "Common Ground," in which he plays guitar and is the lead vocalist. He is also a member of the Two Harbors City Band and the Lake City Smokin' Section band.  Ricky was awarded the Louis Armstrong Award for jazz performance. Ricky plans on attending the University of Minnesota – Duluth and will double major in music performance and criminology. Follow this link to watch Ricky rock out on a cover of 'Gunnin' by Hedley.
A Virginia High School graduate and dedicated musician from a young age, Aaron Wilcox learned to play violin at four years old and piano at nine years old. He has been a member of several orchestras, including the Mesabi Symphony Orchestra and the Virginia Eveleth-Gilbert Orchestra, as well as orchestras for musicals such as "My Fair Lady." While Aaron is a musician of many styles, including ragtime, sacred, and classical, he seems most passionate about fiddling. Aaron will be attending The College of Saint Scholastica, where he plans to study physical therapy and music and hopes to establish a small string ensemble. Watch this video to see Aaron's fantastic fiddle skills on 'Orange Blossom Special'.
2013 Scholarship Recipients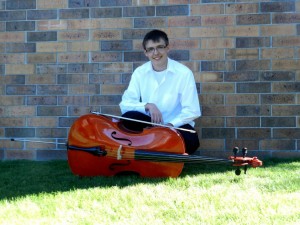 A graduate of Chisholm High School, Byron Klimek recently discovered a love of the cello while watching a performance of the Minnesota Orchestra.  He quickly learned to play and served as the Associate Principal Cellist for the Mesabi Symphony Orchestra in 2012.  Byron also plays the clarinet and took part in concert, jazz, pep and city bands.  Byron will major in Instrumental Music Education at the University of Wisconsin at Superior.  Watch this video to hear Justin play Bach's Prelude to Cello Suite 2 in D Minor.
Alayna Starr is a Virginia High School graduate.  Inspired by her aunt to play flute, she went on to win many awards for her solo and ensemble performances during high school.  Alayna also plays piano and was active in pep and marching bands and musicals.   She will attend Concordia College minoring in music performance and majoring in finance.  Follow this link to watch Alayna perform Doppler's Hungarian Rhapsody.
2012 Scholarship Recipients
Haylee Donnelson graduated from Mesabi East High School. She plans to attend McNally Smith College of Music to double major in vocal performance and sound production. Haylee tells us that she has always loved music – whether it be writing music, listening to it or dancing. But she says her passion truly lies in music performance. Check out this video to see Haylee sharing her passion with others.
Justin Bohrer is a graduate of Two Harbors High School. He plans to study music at Moorhead State University, majoring in music performance in guitar and minoring in studio recording. Justin is a musical jack-of-all-trades: he plays guitar, bass, trumpet, piano, drums and harmonica and was a singer in several high school vocal ensembles. Follow this link to see Justin's diverse musical pursuits.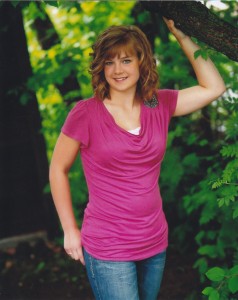 Kimberly Rice is a graduate of Virginia High School. A piano player since the 5th grade and a member of both A capella and swing choirs in high school, she plans to attend the College of St. Scholastica. Kim hopes to become a nurse practitioner, but she is committed to continue musical pursuits throughout her life. She plans to join the college choir and, someday, to buy a grand piano! Take a look at Kim's piano recital.
2011 Scholarship Recipients
Austin Becicka is a graduate of Virginia High School. Like Brad was, Austin is a devoted percussionist. In high school, he was involved in jazz, honors, and marching bands, and community orchestra, as well as forming garage bands with friends. He is attending the University of Minnesota-Minneapolis, where he hopes to continue developing his skills as a percussionist.
Ginger Lund graduated from Deer River High School. In high school, Ginger was involved in choir, concert, jazz and pep bands, as well as many community musicals. Ginger will attend Northwestern College, where she plans to become a high school choir teacher because she wants to "inspire kids and build their confidence the way my teachers inspired me: through music."